Why is everything WHITE?!
26 Mar
As a designer, I have always found some semblance of an appeal to white.  It provides an open canvas, gives a "pristine" appearance, and creates intriguing contrasts and focal points in relationship to it's adjacent surroundings.  But seriously, when is too much white TOO MUCH WHITE?
Case in point: I have been glancing at my CONTEMPORIST email subscription for, basically, one minute per day. Not much time, I know, but it is enough to get a quick inspiration or moment of disgust at the design the email is presenting to me.  The last three emails in a row presented some beautifully designed homes, except for one thing…they were all white.  No, I'm serious, inside and out, all white. Now, again, I understand SOME appeal to white, but three in a row as all white…isn't that a bit much?
Below are the three houses (and my quick opinions)
Casa Playa Las Palmeras: Riofrio+Rodrigo Architects
Advantage of the white: the blue stair really pops, which is such a neat occurence!
Disadvantage of the white: there are some cool design elements, but I'm bored after 5 minutes
Mario Rocha House: Carlos Nuna Lacerda
Advantage of the white: the wood slats really pop
Disadvantage of the white: again, it gets boring pretty quick
Low Energy House: Steinmetz De Meyer Architects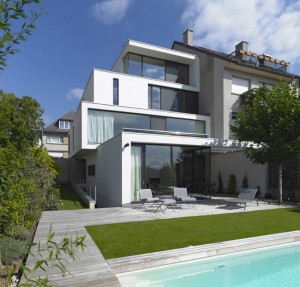 Advantage of the white: shadows play nicely in some of the house, and the solid/void play is attractive
Disadvantage of the white: this one is my favorite of the three. It caries the most interest, in my opinion, but again only lasts so long
While I like parts of these designs, they fall short in keeping my interest and boasting an overall quality of life. I feel that, as a home, there needs to me more character, more comfort, and more personality. But then again, that's just me…everyone's different!
In conclusion, I have one question…WHY WHITE?!  Seriously, please reply, I would love to hear some opinions!
Tags: Carlos Nuna Lacerda, Contemporist, Riofrio+Rodrigo Architects, Steinmetz De Meyer Architects, white