"We found our architect"
14 Mar
The contractors said they couldn't do it. They hated the designs from many of the architects. The Zielinski's wanted something different, but no one seemed to bite.
Then they talked to Mr. Fisher of Fisher Architecture. Ms. Zielinski recalled her reaction to the paper towel drawing from Mr. Fisher:
 'I was very calm, but my whole insides, there was like a party going on. I went out to the factory and said to Bob, 'We have our architect.' "
An Industrial Strength House in Pittsburgh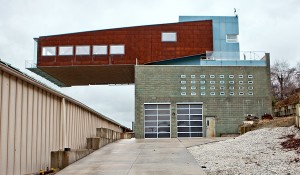 What a reaction! Consider this … a large percentage of the general public does not get to experience a working relationship with an architect. Therefore, we have a responsibility to go out there and create great architecture for our clients. For the Zielinski's, many of the architects they spoke with were producing bland, boring, or otherwise terrible architecture that did not meet their needs or wants.  How disappointing … but then Fisher Architecture came along and showed them a path toward their dreams. And what a success it was!
Now, I'll be honest…
… I'm not the biggest fan of the house as a whole. However, the approach is what I'm truly excited about.  The out-of-the-box thinking, the tie to the city, the excitement of the client, and yes, even the napkin sketch, make the entire process turn into an adventure rather than the "status quo." Fisher and the Zielinski's pushed the envelope of what others said could not be done, and that is truly exciting!
The final take away for me (and hopefully for you) … I want my clients to say "My whole insides, there was like a party going on. WE HAVE OUR ARCHITECT!"
Tags: Bob Zielinski, Fisher Architecture, Frank Lloyd Wright, Industrial-Strength House, Kim Zielinski, napkin sketch, Pittsburgh Pennsylvania, We Have Our Architect