Memorial Design…is there a wrong way
19 Dec
http://archrecord.construction.com/yb/ar/article.aspx?story_id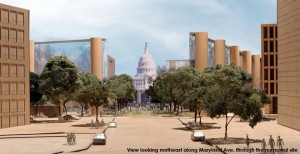 =167051688
Architectural Record posted on its site an article from the Washington Post voicing concerns about the planned Eisenhower Memorial set to break ground early 2012. The preferred design by the memorial commission was created by Frank Gehry in collaboration with set designer Robert Wilson.
The main concern voiced by 2 grand-daughters of Eisenhower is that the memorial doesn't to them truly represent the essence of who their grandfather was. And there not to thrilled about the statue of their grandfather being a representation of him as a "barefoot boy from Kansas".  This idea stemming from a quote Eisenhower said during a coming home speech following WWII…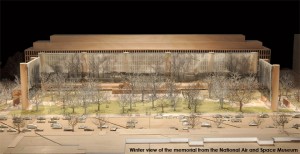 "Because no man is really a man who has lost out of himself all of the boy, I want to speak first of the dreams of a barefoot boy" – Dwight D. Eisenhower, June 22, 1945
I couldn't find a picture of the proposed statue, but their concerns over the memorial bring up the question, at least to me, is there a right way or a wrong way to memorialize a person through design?
Memorials can be as large as the recently opened September 11th Memorial in New York, or as small as a tombstone or a sign saying that this place is in remembrance of a person. So many corners and streets throughout New York City I have seen named for people and I have no idea why. Older memorials think back to the idolatry the Egyptians, Greeks and Romans had for their Gods (The Lincoln Memorial, Jefferson Memorial, and Washington Monument for examples). More recently memorials are becoming more artistic, and open to interpretation, for lack of a better word, you could call them modernist or avant garde. Personally while I think the design is beautiful and that it would be a very interesting space to experience first hand, if I was to look at these images and not know their context, to me its a new design for the park space that is already there and getting an upgrade. Would I have known it was supposed to be a memorial, not at all, let alone one for one of the past Presidents of the United States.
So truly is there a right way to design a memorial?