Porsche Designed Condo: Rethinking the Highrise
23 Nov
When you think about cities, you think the need to limit your number of cars for several reasons…lack of parking, expensive gas, tons of traffic, pollution, etc.
But a condo developer in Miami is starting a project that will at least take care of the lack of parking…while giving you your own personal valet!
Porsche-designed condo lifts owners and cars to high-rise homes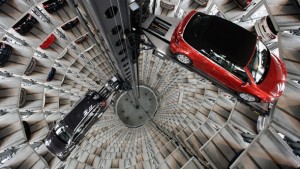 What I really like about this is the developer's look at rethinking the approach to a highrise condo.  First of all, the center of the building gets no light…why not put spaces in the middle that don't need light?  Then, instead of taking up the bottom of the building with parking, we can now have useful retail, entertainment, commercial, and residential space all the way to street level.  On top of that, the condos (might) effectively become skinnier and longer, exposing more of the floor plan to the outside, producing more views and daylight for each apartment.  And now, because your car gets parked outside of your apartment…there's no more need to carry bags of groceries through the lobbies, elevators, and hallways to your apartment!
On the flip side, I'm not so much a fan of bringing more cars into a city setting, and that car elevator will consume an immense amount of energy.  However, this is a great example of thinking outside the box and exploring the world of possibilities beyond the norm of our classic design thinking.
THINK DIFFERENT!
Tags: automobile's effect on design, condo, miami, porsche, rethinking the highrise