Sky City: World's Tallest in 7 months?
16 May
The above is a promotional video for Sky City, the vision of Broad Sustainable Buildings and if built it will become the World's Tallest Building at 838m after being completed in just 7 months!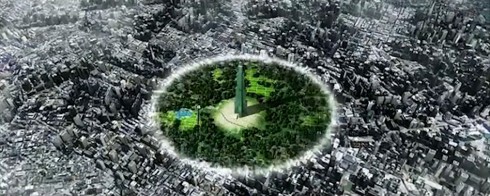 It would be a phenomenal feat of engineering to do but I am still a little skeptical. They did manage to pull off a 30-story building in just 15 days so they can build quickly. The video is very much a propaganda piece but I found it quite interesting the concepts they are going for even if some imagery is a little far-fetched. My personal favorite moment (pictured above) is the halo that comes down over the building then replaces all the low gray buildings with green trees as it expands outwards from the base. I don't think the important discussion on this should be on if it will get built but more on the idea that a single building would replace an entire city and is that a good idea or just fantasy?
Tags: Broad Sustainable Buildings, Changsha, China, propaganda, Sky City, Skyscraper